GOURDCRAFT
I love experimenting with my art on gourds. Living on a farm, I have enjoyed growing my own gourds, all shapes and sizes, and as time permits, after the drying process, I get creative. This page gives some examples of my gourd work.


Southwest Indian Pottery Gourds: For many years I have been intriqued by prehistoric and ancient indigenous art, and in recent years I have been visiting numerous petroglyph and pictograph sites as well as museums, galleries and ancient peoples (a.k.a. Anasazi) dwellings throughout the southwestern U.S. I have been inspired to craft gourds to replicate the look of the pottery produced by the Ancient Pueblo, Mimbres and related tribes. My gourdcraft includes a "potsherd" series of jewelry and decorative pieces, full pottery pots and ornaments. Whether my rendering is true to an original design, a variation on an original design or I use a motif in a more contemporary manner, I always execute my painting and crafting in respect for the early Indian art which I honor.

MIMBRES BLACK ON WHITE POT

---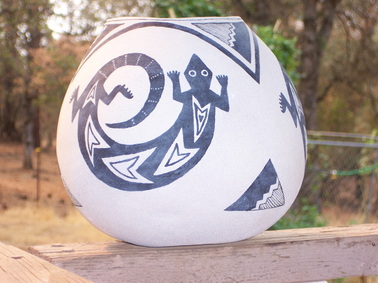 MIMBRES LIZARD POT
---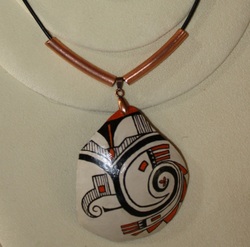 Potsherd necklace with copper and leather cord.
---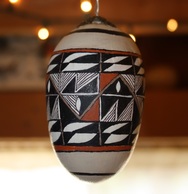 Southwest Motifs on Christmas Ornaments
​


​Miniature Fine Art that is Wearable (painted gourd pieces)
:
The following is an example of a few of my pieces that can be purchased via my
Etsy
site: "
http://www.etsy.com/shop/DianasArtonGourds
" or contact me directly for a commissioned gift of wearable fine art. (Diana@DianaWylesArt.Com).